The Maple Leafs have had issues between the pipes all season long so when Kyle Dubas completed a trade with the Los Angeles Kings late Wednesday night, much of the attention focused on the acquisition of goaltender Jack Campbell but that wasn't the only weak spot on the roster that was shored up in the deal. It's no secret that this Leafs lineup has been built on skill up and down the lineup and that they've lacked a certain measure of grit or toughness in their forward group. Adding Ontario native Kyle Clifford to the group should help put those concerns to bed for the Leafs and their fans.
The 6'2″, 211 pound Clifford just turned 29 years old and has spent his entire career in the Kings organization, suiting up for 660 regular season games and 55 playoff games since breaking into the league in 2010-2011. He can chip in with a bit of offense, scoring a career high 11 goals last season in just 72 games, but more importantly he brings a wealth of experience and a pair of Stanley Cup rings to a Leafs locker room that's short on playoff success.
Through 53 games with the Kings this season, Clifford has scored 6 goals and 8 assists while bringing an unrelenting physical presence to the bottom half of their lineup. Unlike many of the tough guys the Leafs have employed in recent years, Clifford also has an ability to drive play and not cost his team when he's on the ice. With Clifford on the ice at 5v5 this season, the Kings have controlled 55.18% of the shot attempts and 55.89% of the expected goals. Those marks would place him second and first respectively among Leafs who have played at least 17 games for the team this season and his 90 hits are more than any Leafs forward.
Too often this season the Leafs have received little to no contribution from the bottom of their lineup that's built mainly on skilled, offensive players. When they weren't scoring, they were providing very little in the way of physicality or momentum generating shifts. Clifford changes the identity of the group immediately, bringing a style of play that's been missing from this team for too long.
Kyle Dubas continued the trend of acquiring players that he has been linked to in the past, as Clifford was his first client when Dubas was a player agent several years ago. Dubas has often spoke about how important it is to have good people, as well as good players, in the organization and he would be quite familiar with what he's getting both on and off the ice with the addition of Clifford.
Beloved in the locker room and a fan favourite in Los Angeles, he's also consistently had a positive impact at both ends of the ice. Micah Blake McCurdy's isolated impact model accounts for several factors to help us understand how individual players perform offensively and defensively. As we see here, Clifford has helped keep the ice tilted in his team's favor all season generating plenty of opportunities in front of the opposing net while opposing teams have generated very little when he's been out there.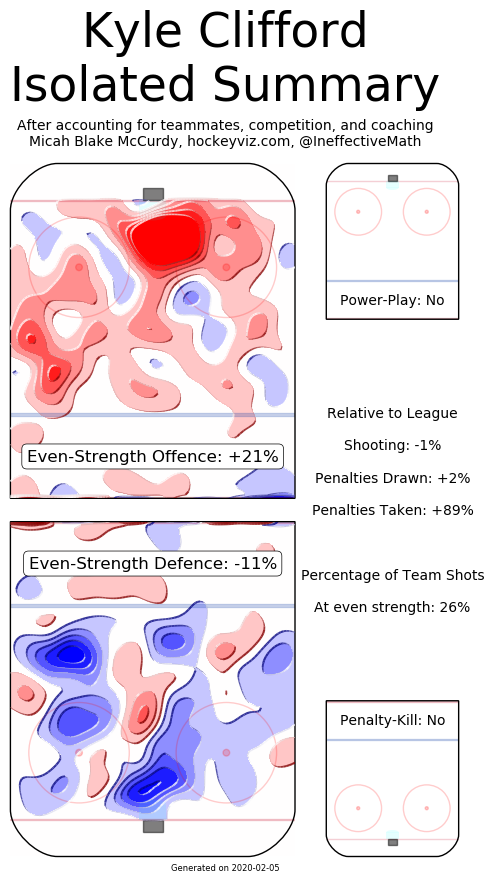 Dubas knew this team needed a different element up front but ability will always be paramount and he wasn't going to add toughness or grit in the form of a player who couldn't hang with the rest of his forward group. Clifford will provide some much needed physicality and belligerence but will bring value in other areas as well, both on and off the ice.
This Leafs team still has some holes that need to be filled but Wednesday's trade with the Kings addressed two glaring ones. Joining former teammate Jake Muzzin as someone Dubas has brought in mid season, Clifford should help dispel the notion that the Leafs young general manager doesn't value grit and toughness on his roster. He just values it in players who can actually play hockey. That's what the Leafs are betting Clifford can inject into their lineup.
---
Follow @_nickrichard on Twitter